Sod Works

3535 Montana Hwy 284

Townsend, MT. 59644

Office: (406) 266-4763

Cell: (406) 439-8873

email: hugh@bestsod.com

On a regular basis we are asked: "Why should I buy sod and not just seed my lawn."  The following is a list of the benefits of purchasing sod from our farm in Montana.


Financial

While buying sod may require more money up front, it's easy to argue that over the long run seeding a lawn can cost more money. Seed is relatively cheap, but it requires approximately two years of intense management to achieve the look of a sodded lawn.  Between extra water, fertilizer, and weed sprays the cost continues to rise when seeding.

Water Conservation

Water conservation is becoming a significant issue throughout our Montana trade area. Kentucky bluegrass sod requires a large amount of water for the first two to three weeks and then requires the water of a mature lawn after that.  When a lawn is seeded it provides no grownd cover to help hold the water in the soil.  Consequently, a seeded lawn requires significant watering until it fills in.

Time

The value of your time is only known by you, but most people would prefer to spend time enjoying their lawn rather than working on it.  A sodded lawn from our Montana farm  requires basic mowing, watering, fertilizing, and weed control.,  In contrast, a seeded lawn requires a greater amount of all that -- except mowing for a period of time.  Also a sodded lawn can withstand heavy use after the first two to three weeks while a seeded lawn can only have minimal usage for the first year.

A Cleaner House

Many times the job of putting in a lawn is done after building a new house or business.  Seeding a lawn will leave the disturbed dirt from construction exposed for some time.  So if it is not being drug in in the form of mud, it will be blowing in and around in the form of dust.  When sod is placed, a yard goes from mud to green grass in less than a day.

Visual Appearance

You most likely have completed a great deal of work cleaning up your yard, landscaping the area, and preparing the soil. Bluegrass sod brings the final touch and completion to any project.  Seeding takes time to fill in and look complete.  This appearance is especially important for new businesses.  It tells your customers that your construction project is complete and you are open for business.  If you are trying to sell your home, or a spec home, research has proven that a lawn is critical to achieving top dollar for your home.

Sod is a Simple Way To Add Value

Buying and laying sod is one of the easiest 'do it yourself' jobs around the house.  You and a small group of friends can easily lay an average sized yard in a day.  We are more than willing to line you out on the care and maintenance of bluegrass sod when we deliver your order.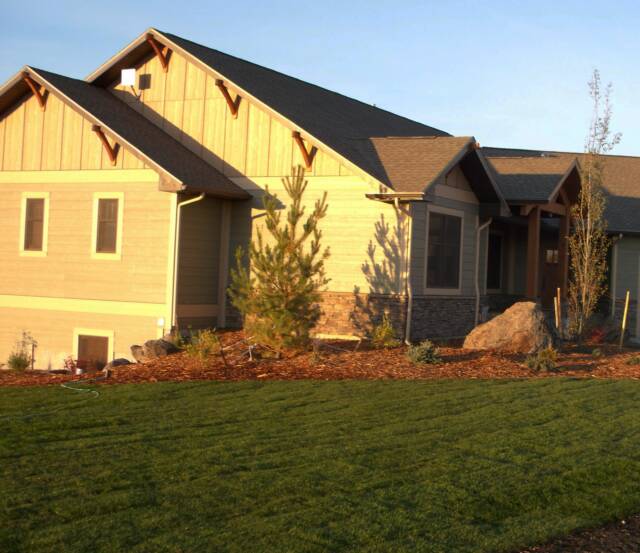 Copyright 2009.  SodWorks: Bluegrass sod for Montana.  All rights reserved.

Why Buy Sod